Ductility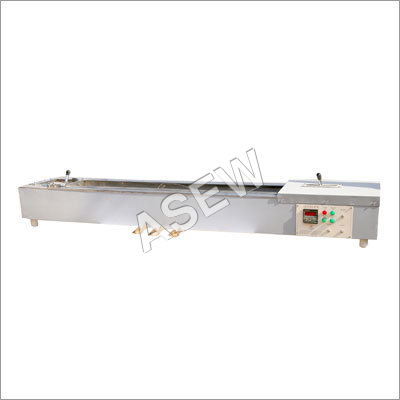 Ductility
Product Description
ASEW-219

DUCTILITY TESTING MACHINE: IS :1208

ASTM D113, AASHTO T51. DIGITAL

Mould-3 Nos. Made of brass/gunmetal mounted on a base plate. Each mould has two end clips, two sides with knurled screws and side support for proper assembly on the base plate. One spare mould with base plate for casting the specimen is

also supplied.

Water Bath Thermostatic controlled A bath maintained with +- 0.1 deg C of the specified test temperature, containing not less than 10 ; liters of water, the specimen being immersed to a depth of not less than 100 mm and supported on a perforated shelf not less than 50 mm from the

bottom of the bath.

Testing Machine The machine has two rate of travel, namely 5 cms per minute and 1 cm per minute. A clutch arrangement is provided by which the movement of the movable bracket can be arrested or restarted without switching off the motor. A scale on the top edge of the bath makes it easy for the operator to observe the progress of the test. Machine accommodates three individual specimens. A quick release mechanism permits the operator to move the carriage to any desired

position on the track. An automatic cut off

prevents over runs. Immersion heater also

provided.

A three wire cord with plug is furnished with the

bath.The control panel is recessed. Controls consists of a temperature, an on-off line switch which controls all power to the bath, and pilot light which indicates when the heater are energized. Operation on 230 volts, single phase, 50 cycles, A.C. supply.